Building a backyard ice rink can be a scary thought, especially if you're not particularly handy with tools. Don't worry, you're not alone. And we're here to help.
This is a comprehensive step-by-step guide to building a simple backyard skating rink. It's meant for people of all skill levels – even those who've never built anything in their life. All you need to bring to the table is some time and patience.
Here's an overview of what we're going to cover in this guide from start to finish:
Determining the right location to build your rink
Getting the right materials to build your rink
Backyard ice rink assembly
Backyard ice rink maintenance and troubleshooting common problems
Backyard ice rink disassembly and storage
Customizing your rink with more features
This is going to be somewhat of a long read, so feel free to grab a snack and cup of coffee before settling into your reading chair. And of course, you can always take a break and come back. We'll be here!
Before we begin, let's go over some of the most commonly asked questions that you may have when starting out.
What will it cost to build my rink?
Backyard rinks can cost anywhere between $200 for a simple rink to $20,000 for an NHL-style rink with a refrigeration system. For the purpose of our tutorial, we'll be building a simple $600 rink that should last you five or more winters. We think this is the kind of rink that'll suit most homeowners.
Can I build a rink if my backyard isn't flat?
Yes. In fact, almost 99% of backyards have a slope – big or small. Even though your backyard looks flat, it probably isn't!
Will the rink wreck my lawn?
No. Grass enters a dormant state during the winter. For most people in the US and Canada, that's sometime between November and March. As long as you set up your rink when your grass goes to sleep – when temperatures drop below 42°F (5.5°C) – and remove it before your grass wakes up in spring, you won't wreck your lawn.
Instead of building one from scratch, can I just buy a rink kit and install that?
Yes. If you'd rather buy a rink kit to make things easier on yourself, go for it. This means you'll have to spend more, but you get a system that lasts longer. However, please keep in mind that not all rink kits are made equal. Some are downright flimsy. We hear good things about NiceRink though. You should be able to get rink boards, brackets, and a liner from NiceRink to build a 24′ x 44′ rink for roughly $1,400.
For those who want to learn how to build their own rink from scratch, let's get started with the first step!
Step 1: Determine the Location
One of the things that'll make or break your rink building efforts is choosing the wrong site to build your rink. You don't want to let all your efforts go to waste because you chose the wrong location.
Luckily, you're here so you won't be making that mistake!
As we mentioned above, almost 99% of backyards have a slope. So that's nothing to worry about. For building our $600 rink, the key is to choose a location where the slope doesn't exceed 6".
First, you want to find a rectangular area that's relatively flat. Then what you want to do is measure the slope on all sides to make sure they're all less than 6".
To do this, you can use a laser level. Place the laser level at the highest corner of your potential rink location at 4″ above the ground. The idea is to have a minimum of 4″ of ice at your shallowest end, which is the minimum thickness to support skaters.
Next, point the laser level to each of the other three corners. Measure the height at each corner. The difference between the height of two corners is your slope.
To give you an example, if the height of the highest corner (of your rink filled with water/ice) is 4″ and the height of another corner is 10″, you have a 6″ slope. The ice at the lower corner will be 10″ thick.
Since we want a maximum 6″ slope, the lowest corner should be no higher than 10″.
Step 2: Get Materials to Build Your Rink
Now that you've found a location to build your rink, it's time to buy the materials.
In this tutorial, we're going to show you how to build a rink that's 32' x 48'. If your rink is a different size, you may need to purchase more or less materials for your build. If that's the case, feel free to use our materials list as a guideline.
Here are the materials you need to get for a 32' x 48' rink:
Dimensional Lumber
Your local home improvement store will usually have a range of softwood lumber (pine, fir, spruce, cedar, etc.) processed into standard-sized beams and planks. These are called dimensional lumber. They're what we're going to use to build our rink frame.
Dimensional lumber is perfect for building backyard rinks because you don't have to process them further. They're sturdy, they resist the elements well (especially pressure-treated wood rated for ground contact), they're relatively inexpensive, they're readily available, and you can easily get more than five years use out of them.
You'll commonly hear them being distinguished by their width and depth: one-by-two, one-by-four, two-by-four, and so on. These are their nominal sizes. Note that nominal sizing is for naming purposes only and are different than the actual size of the lumber which is smaller. For instance, a one-by-two (1" x 2") lumber will have an actual size of 3/4″ x 1-1/2".
For our rink frame, we will be using two-by-twelve (2" x 12") lumber which have an actual size of 1-1/2" x 11-1/4". This means that your rink boards will be 11-1/4" tall and should have no problems accommodating 4" of ice in an area with a 6" slope (total 10").
You can find dimensional lumber in various standard lengths: 6', 8', 10', 12', and so on. For our rink frame, we're going to go with 8' lengths all around.
We feel that having the same length will make the build less confusing. The lumber will also be easier to store during the off-season. We don't want to choose lumber that's too long because you'd have to find the extra storage space.
Miscellaneous Materials
The rebar will be used to support and anchor the rink frame to the ground. And the tube straps will be used to attach the rebar to the lumber.
The mending plates will be used to hold the pieces of lumber together side-by-side. And the corner braces will be used to hold the four corner pieces together.
You'll need to pick up some 1" screws to attach everything together. Don't use screws that are longer than 1" because you run the risk of drilling through the boards – which are only 1-1/2" thick – and injuring someone or poking a hole through the liner.
Don't worry if all this sounds confusing at the moment. You'll see how all the pieces fit together in Step 3 on how to install the rink frame.
Liner
The liner for this rink measures 40' x 56'. We added 8' to both the length and width of our 32' x 48' rink. The liner will be draped over the boards (roughly 1' tall) so you want to make sure it's big enough. You can always cut away some liner but it'd be difficult to add more.
We essentially added 4' to each side of the rink to get our liner dimensions. You can follow this guideline and add 4' to each side of your rink if it's a different size than ours.
The liner should be clear or white. White works best in our opinion because it reflects the sun and helps keep your rink frozen. Sunlight is a factor even during the winter! For the same reason, avoid blue, black, or green liners that you may find at the hardware store.
Step 3: Install the Frame
Just before the weather gets cold and while the ground is still soft enough to insert the rebar, it's time to set up the frame!
The perfect time to set up the frame is usually sometime between mid-October to the end of November for most folks in the US and Canada.
Some people want to take advantage of the warmer weather and set it up in October. While others don't want to stare at their wooden frames for too long so they leave it until the last weekend of November. Either way is fine, but better earlier than later because you want to make sure your ground is still soft enough to work with.
The first thing you want to do is mark out your 32' x 48' rectangle. Use a tape measure and some string (and something to hold the string) to do this. Make sure the corners are square because your boards won't line up properly if they're not.
Then use spray paint to go over the string. You can remove the string after spray painting, as the spray paint will help you see where you'll place the boards.
Build your rink by starting at the corner. Take your first piece of lumber and lay it down at the corner of your rectangle.
While holding the board upright (ask a friend or family member to help out), hammer down a piece of rebar on the exterior side of the rink. Then use a tube strap and screws to secure it to the board. Continue attaching rebar to the boards like this at 4' intervals all the way around.
Use a mending plate and screws to attach the second piece of lumber to the first. Continue attaching your lumber together using the mending plates all the way around.
Your rink boards should begin to look something like this: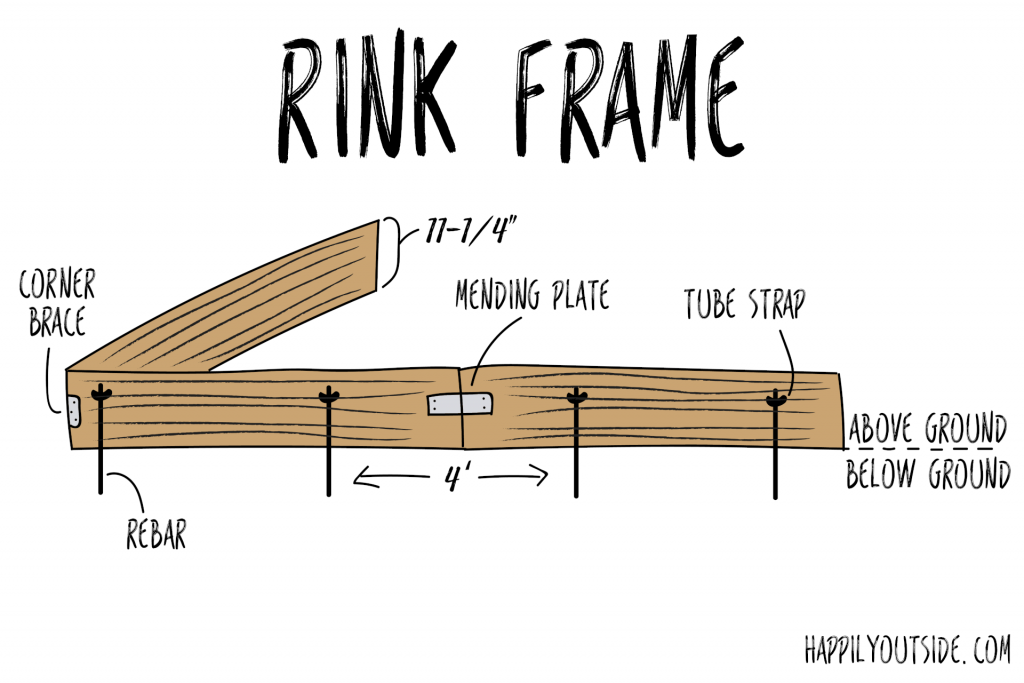 For attaching the corner pieces of lumber together, use the corner braces and screws.
Continue attaching everything together until your frame is built.
Step 4: Fill Your Rink
"Fill day" will usually be in the first two weeks of December, weather permitting.
You want to pick a date where there will be sub 32°F (0°C) temperatures during the day for a few consecutive days to allow the ice to set. Temperatures during the night should be even colder.
It shouldn't be snowing during those days (or it should snow very little). Otherwise you'd have to remove the snow that accumulates on your rink and it could get messy in there.
Try to pick a fill day that isn't windy. Wind will make it difficult to lay your liner down flat and secure it in place.
Got a date picked out? Great. The first thing you want to do that day is walk the area of your rink to pick up any debris. Get rid of branches, pine cones, rocks, etc.
Then bring your liner to the middle of the rink and start rolling it out from there. Once you reach the sides, bring the liner up along and draped over the boards.
The liner should sit flush on the ground and along the board. It should look something like this:
It doesn't have to be perfectly flush. The important thing is to give the liner plenty of slack rather than stretching it out. You need it to sit "comfortably".
Once your liner is in place, use spring clamps to secure the liner to the boards and walk the area of the rink to smooth out any large wrinkles before dumping water into the rink.
You can use your garden hose to fill your rink or have water delivered to your home from a truck. As your rink is being filled, you want to make sure your liner isn't stretching in any place, and adjust as necessary.
When do you stop filling? As long as your shallowest end has 4" of water (measure the depth with a ruler) you're good to go. We don't want the ice to be thinner than that to support skaters.
Now all that's left is to wait for the water to freeze!
Step 5: Maintain Your Rink
In this section, we want to go over some common scenarios and give you some tips and tricks to keep your skating rink in good condition all winter.
Tip 1:  Dealing with slush.
There will most likely be odd days when the temperatures climb above 32°F (0°C) and your backyard ice rink suddenly turns into a backyard pool. When this happens, you'll just have to be patient and wait for the water to freeze again. And don't worry, your liner will keep your water from escaping.
Tip 2: Dealing with snow.
If you want to keep a smooth surface, shovel any accumulation of snow as soon as you can. Snow that sets on your surface will cause a bumpy, nasty mess. And you'll have to put in a lot of work to get it smooth again.
This also applies to the "snow" that's left on the ice after a skate. You want to shovel the snow and ice after every skate so that it doesn't solidify on the ice and cause a lumpy situation.
Tip 3: Dealing with a bumpy surface.
Despite your best efforts to keep a smooth surface, you're looking at a bumpy mess. The best way to fix this situation is to walk around the rink with a heavy-duty floor scraper and try to get the bumpy bits off. Then resurface your rink by flooding it with a thin layer of water using your garden hose.
Step 6: Disassemble Your Rink
There are three main steps to putting away your rink: draining the water, dismantling the frame, and storing the frame pieces.
Drain the Water
The easiest way to drain the water would be to use a small water pump that you would place in your rink and attach to your garden hose to pump the water to another destination.
For some people, they can pump the water from their backyard into a swamp. If you don't have the luxury of a swamp or an area near your backyard where you can direct all the water without flooding your neighbor's home, you might be able to direct the water to the city sewer instead.
A good idea would be to save some of the water in barrels and use it over the summer to water the lawn.
Dismantle and Store the Frame
Before you dismantle the frame, remove the liner. Since we don't recommend using the liner for more than one winter, you can recycle it, donate it, or use it for another purpose like covering an outdoor wood pile.
When dismantling your frame, keep everything organized so as not to lose any pieces. You could also number your lumber. Then when you build your rink next year, you know exactly where each piece goes. This could be important if some of your pieces only fit a certain way.
When it comes to storage, try to find a place indoors like your garage or shed. You want to keep the pieces (especially the wood) out of the elements as much as possible. If you must store the wood outside, use something to cover them.
Instead of stacking the wood directly parallel on top of each other, stand them up individually or stack them in a crisscross to allow air to flow through and moisture to exit.
Step 7: Customize Your Rink (Optional)
And finally, we want to suggest a few features that you can add to make your rink even more fun!
Build a US Pond Hockey Championships Goal
If you're going to use your rink to play hockey, you're going to need nets! The official US pond hockey site has a really good tutorial on how to build an official USPHC hockey pond, so you can check out the guide here.
You can definitely buy your own hockey nets, but there's something nostalgic about an old fashioned wooden net. It's way more fun and you don't need a goalie.
Set Up Lighting
We like the idea of hanging lights around a backyard rink because it adds ambiance and allows you to use the rink at all hours of the day.
If you live in an area where it gets dark in the afternoon during the winter, and the backyard lighting from your house doesn't reach the rink, you'll probably want to hang some lights.
An idea would be to wrap some Christmas lights along the perimeter of your rink. You could tape them along the boards. You could even hang them on nearby trees, or anchor some logs along the perimeter of the rink to hang them.
Place a Bench
While you're at the home improvement store, pick up a simple, foldable outdoor bench that you can place beside the rink. A bench is useful for tying skates, taking a rest, or allowing parents to sit rinkside to supervise their children.
Frequently Asked Questions (FAQs)
To wrap up, we want to answer some common questions you may have about building a backyard rink.
How often should I resurface my rink?
We recommend shoveling the rink after every skate and resurfacing only right before you're going to use the rink again. Shoveling the rink ensures that nothing sticks and keeps bumps from forming. But if you resurface your ice, and then it snows before your next skate, all that work will go to waste.
Can you use the rink even though you haven't resurfaced between skates? Absolutely! A perfect, smooth surface is nice, but as long as you keep the rink clean, it's still good to go. If you know you're going to host a party, however, then you'd probably want a perfect rink so by all means resurface. Always check the weather – if there's a snowstorm, we wouldn't bother!
Do I have to replace the liner every year?
We recommend replacing the liner every year to ensure the success of your build.
The liner is a very important piece. If there's one thing that you don't want to malfunction, it's the liner. It's the thing that keeps all the water inside your rink. Otherwise you'd have no rink.
We don't want to see you risk all your time and effort into putting your rink together only to have the liner fail. Some people reuse their liners with success. But ultimately we want to be 100% sure that the liner will hold, so we suggest replacing it each year.
That's a Wrap
We hope this guide helps you build a backyard ice rink that you can enjoy with your family, friends, and neighbors. And we hope you have loads of fun and build many lasting memories together.
Have Fun Out There!